Below we've gathered a collection of popular Bauhaus and minimalist watches. This segment is dominated on the semi-luxury end by Nomos, and in the mid-range price bracket the Junghans Max Bill is incredibly popular. Stowa makes a nice alternative in the Antea and Junkers also has a lot of options, but is hard to buy outside of Europe. For those looking for a Bauhaus watch under $500, Junghans makes some Max Bill quartz versions, otherwise options include the Tissot Everytime Swissmatic, the Orient Bambino Version 3 (just over $100) and the Timex Fairfield Chronograph (examples of all below), while Skagen had a modern update on Bauhaus with some fun designs. Some watches in this category bleed into Art Deco, a contemporary style in America that overlapped with the Bauhaus in Germany.
A number of other brands make models that could be included in the Bauhaus category but aren't shown below, and this includes Bell & Ross (more Art Deco), Tisell, Junkers (Bauhaus model), Zeppelin, Sternglas, and the fashion brand Daniel Wellington. You also have a large amount of $15 quartzes on Amazon with vaguely German-sounding names and cheap movements. Quality varies on the low end, so buyer beware. Additionally, you can find many of the popular brands we show below on the used market for lower prices.
We use links to our affiliates Jomashop, Amazon and Authenticwatches.com in this article, but you can go directly to those websites if you don't want to use our links (all are popular and safe places to buy a watch). If you choose to you our links, you may need to click through your ad-blocker. As usual, the links to the more expensive watches go to Jomashop because it is a safer place to buy. You can also find more information on buying watches safely online by looking at our guide. As always, if you are buying online, do some shopping around, as sales happen on different sites.
Strap inspiration for Bauhaus style watches
We've got a Pinterest board for this category, or you can check out the categories and tags in our sidebar. With the white dials the are prevalent on Bauhaus designs, almost anything looks good. Bright colors go equally well with more subdued suede straps. Tan is also a very popular option for white dial watches, and usually a good choice if you're having a strap custom made. For the most part, the Bauhaus aesthetic gives you a lot more options to go wild on color without making the strap and dial combination look too busy. If you're looking to purchase a strap, check out our list of reputable strap companies and also our interviews with custom strap makers.
NOMOS Glashütte
One of the most popular brands when it comes to Bauhaus designs, NOMOS exemplifies the simple design of the category. The popular version of every Bauhaus watch is white, but you can also find their dials in blue or black. The Orion, Tangente, Tangomat and the Metro models are the popular choices, but you can see a longer list on our affiliate Jomashop or on the Nomos website. Most NOMOS models are around $2,500 on the grey market, but a few go down into the $1,200 range. The featured image of this post is the Tangente Sport, which is not featured below.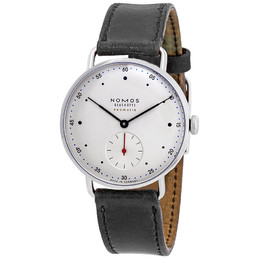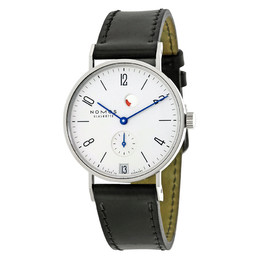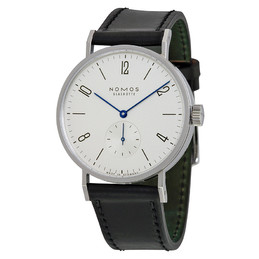 Junghans
The Junghans Max Bill is the clear favorite in this price range. The watch comes in versions up to $1,300 on the grey market, with the quartz versions coming in under $400. All of them look great, so pick the one that fits your wrist and your budget. Other models from them in similar styles include the Meister (chronograph version) and the FORM-C. There are a number of different dial styles with varying number of sub-dials available in automatic and the less expensive quartz versions, so take a look at Jomashop for more options, as we don't show them all below.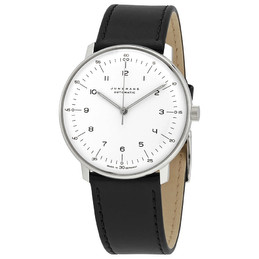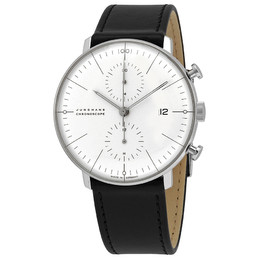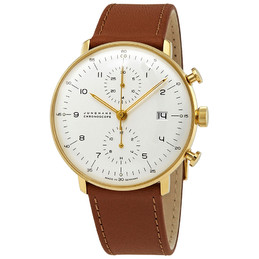 Tissot
The Tissot Everytime is the model that best fits into this category. Tissot is a good brand with a good reputation for affordable watches. The price for the Everytime ranges from $250 to $140, depending on the model (automatic or quartz). It also comes in a smaller (ladies) version. The automatic version is usually labeled with a Swissmatic logo on the front. Another option would be the Tissot Carson Chronograph version for those who love the look of the triple white sub-dials.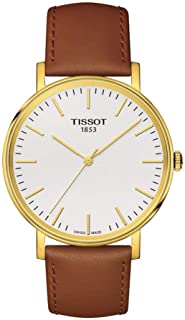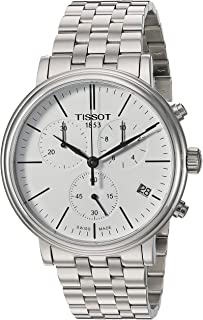 Orient Bambino Version 3
We've included the version 3 of the Bambino because it has elements of the Bauhaus style, although it is also bringing into some Art Deco American style from the same time frame as the Bauhaus in Germany.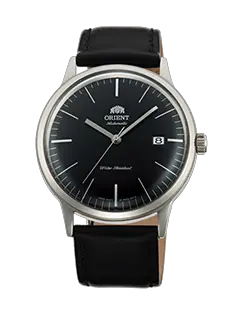 Timex Fairflield
The Timex Fairfield (regular and chronograph versions) has a nice clean design and is an option from those looking for a trusted brand at an excellent price point (the regular version is usually under $40, the chronograph version is more, sometimes over $100). Its hard to go wrong with any Timex, to be honest, I own quite a few. Other options include the Timex Southview, which uses the clean design of the Fairfield but add Roman numerals. Timex has an official store on Amazon, so they are usually easy to obtain there. There are a lot more strap and dial color combinations on Amazon, so do a search there. Sometimes the strap being sold clearly doesn't match the Bauhaus aesthetic (the blue strap below is a good example), so feel free to swap it out for something that does.
Skagen Aaren
We know we're pushing the limits of the category here with the Sakgen Aaren Kulor. Consider them a Bauhaus style, but with color. Not as high quality as the Timex, so don't expect these to last as long, but they do bring a fun splash of color to an outfit and a nice clean design that people want. Lots more colors at the link.