If you're new to watchbands or looking to buy a gift for that special someone, knowing how to pick out the right watch strap is difficult. We interviewed Thomas Lathrop, CEO of popular watchband company Crown & Buckle, for some tips on matching up the right band to your watch. He gives a basic watch strap color guide,
Hello Thomas, and thanks for agreeing to be interviewed. We know that there are a lot of different types of watches out there, how does the style of the watch affect which watch band someone should buy?
My first reaction to this question is that you should always feel free wear what you like. Don't let yourself be constrained by the "norms" for any given type of watch. If you have a dive watch but never get it wet, feel free to wear it on a leather strap. If you have a dress watch but usually wear casual attire, go ahead and pop a colorful nylon strap on it.
This is not to suggest you should ditch the black crocodile strap for a NATO if you are going to a black tie event, but just a reminder that watch straps are a relatively inexpensive, easy, and fun way to mix things up.
To delve deeper into the issue, there are some practical and stylistic considerations that might make your strap making decisions easier. An easy place to start is: do you need the strap to be waterproof so you can swim or shower in it? If so, you should be limiting yourself to waterproof straps such as rubber, nylon (NATO or Perlon), or even a metal bracelet. There are "water resistant leathers" out there, but they tend to be heavily treated or are simply synthetic materials that are a far cry from real leather.
Normal leather will certainly be damaged from getting soaking wet. However, if your watches only see the occasional splash from washing your hands or a few drops of rain, then you are open to just about any strap material, including leather and exotic skins.
Here are some easy fool-proof pairings to kick start your strap search:
Dive watches: Metal bracelets are traditional, waterproof, and are very versatile from a style standpoint. Nylon NATO straps are waterproof, add a layer of safety if a spring bar breaks, and come in hundreds of colors for a fun twist. Rubber straps are durable, waterproof, come in many colors, and are easy to keep clean. Leather works well with dive watches if you don't require any water resistance. In general, thicker straps with full stitching tend to look good with dive watches.
Chronographs: Typically water resistance matters less with chronographs, so leather straps are a good starting point. Consider the complexity of the dial when picking out your strap. The busier the dial, the simpler you'll want the strap to be as far as the texture, color variance, and stitching. When pairing a chronograph with nylon, you may want to stick to solid colors or just one accent color that matches the watch dial.
Field & Pilot Watches: Canvas and nylon straps match the utility of the watch as well as the more casual style, but leather straps can work equally well here if water resistance is not a concern. Field and pilot watches tend to be clean and highly legible, giving you some room to go a little more wild on the strap. Think vintage distressed leathers, contrast stitching, or striped/patterned nylon straps.
Dress & Minimalist Watches: Exotic skins (alligator, crocodile, snake, lizard, etc.) and smooth, clean leather straps are traditional in this realm. However, if you wear a dress/minimal watch in a casual environment, the strap can be the perfect way to add some flair. Dress watches become highly versatile when dressed down a little with a more casual leather strap, or a nylon strap (Perlon is a great starting point).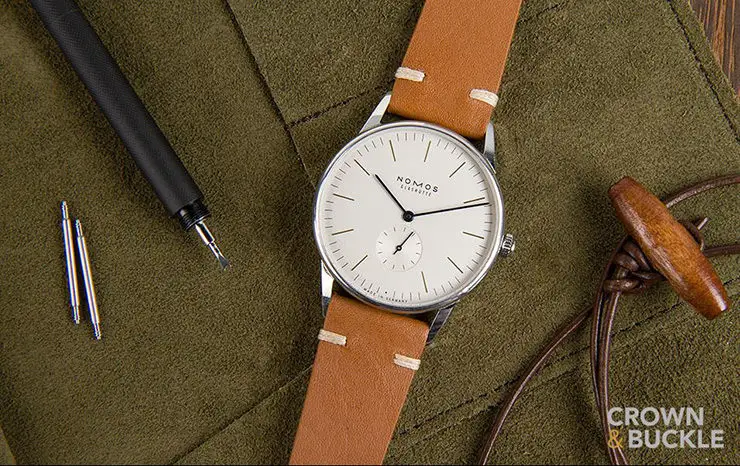 If someone is only planning to buy one new strap, what color do you recommend?
We all tend to gravitate towards a certain color palette, so look towards your typical wardrobe and start with colors that will either match or compliment what you wear. If you wear brown leather shoes/belts, I would stick to brown for your leather straps, but don't fret too much about going for an exact match in tone & color. If your belts and shoes are black, black leather is the way to go.
The dial color of your watch is a consideration. It's widely accepted that a brown strap works just fine with a black watch dial. However, I would suggest keeping some contrast. Black dials tend to look best with light to medium browns, and silver/white dials tend to look best with medium to dark browns.
Black/Grey/Monochrome Wardrobes: You can stick to black & grey straps, or add a small dose of color in your watch strap. Any color will do!
Blue/Cool Tone Wardrobes: Light to medium brown is always a safe bet, or matching with blues/navys. Grey will always look good. Purple and green are analogous, while red, yellow, and orange are complimentary.
Red/Warm Tone Wardrobes: Medium to dark brown & black are a safe bet. Yellow and orange are analogous, while blue, purple, and green are complimentary.
Earth Tone Wardrobes: Browns, olive drab, and some earthy grays will all work well. Try adding black or a more saturated, brighter color for some contrast so the entire palette doesn't appear too washed out. When all else fails, go with a medium brown!
Should someone match the band to their belt, shoes or handbag?
In short: yes, but it's easy to go overboard. In my opinion, it's enough if all the leathers are brown (or black). Don't pull your hair out trying to get leathers that all match one another perfectly.
What else should people avoid when it comes to buying a new watch strap?
Keep in mind the big picture when picking out a watch, strap, and outfit pairing. For instance, if you have a three-register chronograph with a slide rule bezel and day/date function, let the watch dial do the talking and keep the strap subtle. You don't want to create a visual overload by adding a 4 color plaid strap to an already busy watch.
Another thing that hasn't been touched on yet is the thickness of the strap. There are times when a strap may be too thick or too thin to look appropriate for the watch. If you have an 8mm thick dress watch, a 5mm thick leather strap will silly on it. Conversely, a vintage style 2mm thick leather strap isn't going to look right on an 18mm thick 2,000 meter dive watch. Keep it proportional!
Lastly, it's traditional to match the buckle/hardware on the strap to the finish on the case of the watch. A polished dress watch would use a polished buckle. A black PVD watch would use a strap with black PVD hardware. In some cases, a watch will have both brushed and polished surfaces. In that case I personally lean towards using brushed since it's more low key, but you can safely use either finish for the hardware/buckle.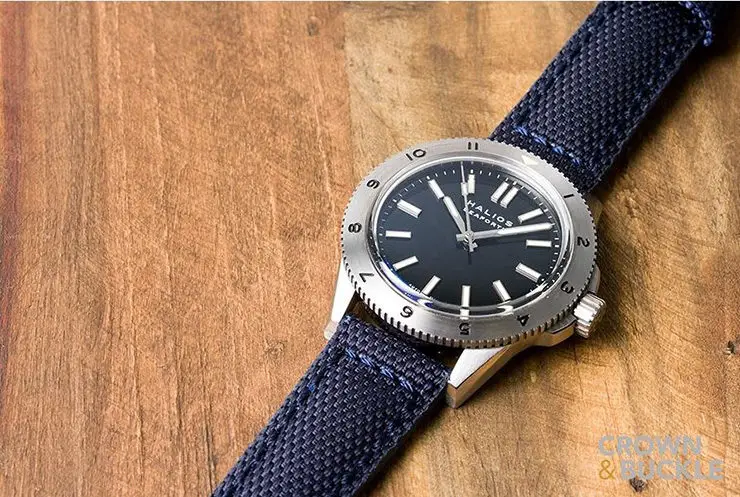 I'm buying a new watch strap for my significant other/important person in my life; how do I find the right size watch strap?
If you know the brand and model of the watch, you can do a search for "BRAND – MODEL lug width" and/or "BRAND – MODEL strap size" which should turn up ample results. Check the top 3-4, and if they coincide, you should be safe with that. If you are unsure on the details and don't want to risk it, try to sneak a photo of the watch and send it in to a strap company. They should be able to help you identify the proper size quickly and easily!
Any other watch band advice?
If you plan to change straps regularly, it's worth investing in a nice spring bar tool, and keeping some spare spring bars around for when you inevitably lose one in the carpet. Remember to have fun and don't overthink your strap choices!
Thomas Lathrop is the founder and CEO of Crown & Buckle, a watch strap company located in Palm Beach, Florida. You can find the straps pictured in this article along with a wide variety of straps on their website, www.crownandbuckle.com and more strap fashion on their Instagram page.
Interested in changing watch straps on your watch? Check out our other guides:
We are an Amazon & Jomashop Affiliate.