Name Seiko Presage Cocktail Time (part of the larger Presage line)
Price Range: $300-$500 (depending on version and color combination)
Style: Dress watch
Type: Automatic
Watch Size: 40.5mm
Lug width (size of strap where it meets the watch): 20 mm
Website: Seiko Presage Lineup
Best Place to Buy: Amazon's Seiko Shop, a department/watch/jewelry store, or the Seiko website.
Seiko Cocktail Time Guide
Welcome to the Basic Bands guide to the Seiko Presage "Cocktail Time" line of watches. These watches, nicknamed after the elaborate cocktails fashioned by Shinobu Ishigaki, are an incredibly popular line of dress watches from Seiko. Combining the reliability and affordability of a Seiko with some amazingly gorgeous dials, these watches have become one of the most popular affordable dress watches in the market.
One thing to note off the bat is that the watches have had a number of releases, first in Japan and then worldwide. So there are quite a few models currently on the market, some of which are hard to find. The watches are also part of the Presage line from Seiko, of which there are many more models. This guide focuses on the Presage models with the Cocktail Time dials in a sunburst pattern from the most recent models released as of 2019, but also has a section for some of the other dials.
Movement
The watches use the Seiko caliber 4R35 movement, the open heart version uses the 4R35B and the power reserve models use the caliber 4R57. All are reliable movements from Seiko for the price you pay and can be hand wound and hacked.
All models also feature a see-through case back, meaning you can see the movement when the watch is off your wrist. For watch aficionados, this is a somewhat boring Seiko movement that they've probably seen before. For someone for whom this is their most expensive watch, its fun to see your movement turn and tick. We enjoy open case backs and we hope you do too.
Size
The watch size is small for a modern watch but large-ish for a dress watch. It's mainly a men's watch but because of its size can pass for a unisex watch (but would be too big for a very small wrist). Seiko has recently released some of the Cocktail Time watches in smaller versions that would look better on a small wrist. The thickness is a nice size on the regular version, with the power reserve version being a little thicker.
Looks
If the movement is somewhat ordinary, the dials are definitely not. Most models feature a starburst pattern on the dial that really pops. If there is one thing owners constantly note, its how much the dial subtly reflects differing amounts of light depending on the atmosphere. Its the sort of watch that gets you compliments anytime its on your wrist. The power reserve version looks slightly more cluttered, with an extra line down the dial indicating the hours of power left. This version also removes the date window and replaces it with a date dial at the 6 o'clock position. The open heart versions appeal to those that love to see the insides of a watch when it's on their wrist, but are otherwise unremarkable.
The blue dial (nicknamed "Blue Moon") and white dials are most popular. The brown and green dials each have owners who feel strongly about those versions too.
Versions of the Seiko Presage Cocktail Time
Model Numbers Explained: Seiko, like a lot of watch manufacturers these days, suffers from an overabundance of watch models, making it hard to pinpoint the watch you want and raising concerns when you're shopping that you're getting a genuine watch. Some models are very popular, while others are rare, making you wonder if it in fact an actual model you're seeing on the website. That's where we come in. All the models below were listed at some point on Seiko's website.
Additionally, models made for some markets like Japan (where Seiko is based) feature model numbers different from the U.S. market. Some retailers import the Japanese models and list them under the Japanese model numbers, making it seem as if its a different watch. We've tracked down all the versions we could find and put the images below. If a watch is known by two different model numbers, we've listed that too.
If you're having trouble finding the watch by name, always search using a model number. Note that in your search you may come across the addition of a J1 at the end of the model number. This signifies that it was made in Japan, but it is otherwise the same watch as one without the J. Most ladies versions have model numbers beginning with an 8.
Original Seiko Cocktail Time
The original Japanese-only model that started the Cocktail Time trend was the SARB065. It was imported into the U.S. by retailers, but since been discontinued; it is likely now overpriced for a U.S. buyer. It only came in a white/silver dial version with the word "Automatic" in cursive font on the dial. The other dial versions of the same watch are still popular, but do not feature a sunburst dial. They are the SARB033 (black dial) and SARB035 (cream/off white dial).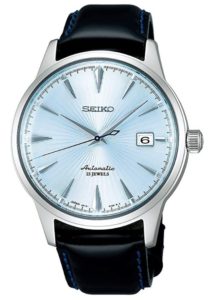 Regular Seiko Cocktail Time Versions
Some of these come on bracelets and some on straps. Many retailers sell models by their Japanese model numbers (starting in SARY), which we've included to help you know which watches are the same watch being sold under different numbers.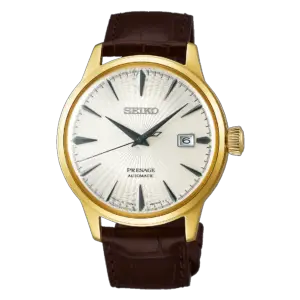 Power Reserve Cocktail Time Versions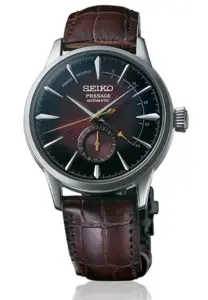 ---
Other versions
Note, some people do not consider these cocktail time watches, but others do. Some of them are limited edition and almost impossible to find outside of jewelers and specialty watch shops. Most of these models have very intricate and beautiful dial patterns. You should zoom in or go to Seiko's website to really appreciate the beauty of these models.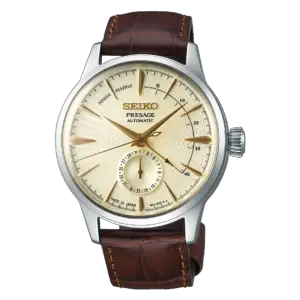 ---
Seiko Presage Ladies Models
Seiko has released a few of the Presage models in smaller versions. These versions feature a 33.8mm case which will fit smaller wrists without looking over sized. The movement and aesthetics are similar to the regular versions. These are hard to find on Amazon, so you may need to ask a watch shop to order it for you.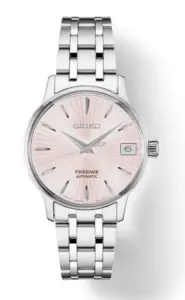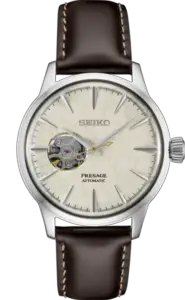 Where to buy a Seiko Presage lineup
You can find the blue and silver dial cocktail time watches fairly commonly on Amazon (our affiliate). You should check who the seller is before purchasing, so a good idea is to read our Guide to Safely Purchasing Watches Online to find out how to find a reputable seller.
Seiko usually sells through dealers, so their website is usually overpriced and will often list the watches at the full retail price and rarely have sales. A better bet is a department store or a Seiko Authorized Retailer (a basic jewelry or watch shop). In the U.S., Macy's or other department stores usually carry Seikos. Find the exact model number in this guide and search using the model number to make sure you're getting the watch you want and not a similar one.
If the size, color or price prevent you from pulling the trigger on a Seiko Presage, alternatives with a similar aesthetic include the cheaper sunburst version 4 of the Bambino (see our complete Bambino guide here), and the similar Orient Star. In the mid-range, there is the Hamilton Jazzmaster, the Tissot Heritage Visodate, and the Ball Automatic. On the higher end and luxury segment, you can check out the IWC Portofino Automatic, the Omega Seamaster and of course the Rolex Datejust.
Lug Width and Watch Straps for the Seiko Presage Cocktail Time
Lug width: The lug width is 20 mm for almost all of the Seiko Cocktail Time we've been able to nail down. Amazon sometimes incorrectly lists the width as 22 mm. If you're worried, you can measure with a ruler or micrometer. Like most watches with spring bars, you should buy a spring bar tool if you don't have one and watch a video on changing the straps. It will be easy once you get the hang of it. Also note that some models come on straps and some on bracelets, but you can change both out if you desire.
Overall, reviewers don't think much of the stock straps, and most people will eventually probably want to swap one out for something better that matches the high class look of the dial. The good news is that the Presage models are strap monsters that look good on a wide variety of straps. One of the more pleasurable aspects of owning this watch is swapping out straps to match the occasion or color of your suit or outfit. Since this is a dress watch, it is commonly worn with leather on special occasions. People who work in a dressier office environment can wear it for work.
Strap inspiration: Because of its affordability and good looks, the cocktail time watches are a favorite watch for watch strap companies to photograph, so ideas for straps are not hard to come by. We've included some below, and you can also find more on our Pinterest page for the Seiko Presage (note that this includes Presage models other than the cocktail time).
Here are some great strap combos from all versions: