Name Orient Bambino
Price Range: $100-$325 (depending on version and color combination)
Style: Dress watch
Type: Automatic
Watch Size: 40.5mm (42mm for V4).
Lug width (size of strap where it meets the watch): 21mm (22mm for V4)
Where to Buy the Orient Bambino: Amazon 
Pros:
Great price, frequently on sale from watch sellers even when full priced on the Orient website.
Fantastic color and style combinations; you will get compliments on this watch.
Keeps good time for an automatic.
Orient is a well-regarded watch manufacturer.
Cons:
Occasionally hard to buy online in the popular color and style combinations. Earlier generations no longer sold directly from the manufacturer's website.
21-mm strap size of the Orient Bambino Versions 1-3 and Small Seconds is not that common, narrowing down your watch band options. The Version 4 has a more common 22-mm strap size.
Very confusing naming convention, making picking out a watch at some online stores a hit or miss.
Orient Bambino Review
Simply put, the Orient Bambino is probably the best affordable dress watch out there. A fantastic option for your first watch, it takes a movement from a reliable watch company and puts it in an incredible looking package. Earlier generations can be bought for just over $100, while the most popular style from the new generation will be closer to $300 (although it frequently goes on sale).
The Bambino's style is clean looking without being bare. It goes well with a variety of looks and can be dressed up or down, depending on your needs. It gets good reviews from watch enthusiasts and will get compliments from everyone who sees you wearing it. Basically, it has all the characteristics of being an amazing beginner watch for people looking for a versatile timepiece at an entry-level price point. It also comes in a wide variety of styles.
Alternatives to the Bambino that match what you get for the price can be hard to come by. The dress watch category is too large to list all possible alternatives here, but watches with a similar aesthetic of a dress watch with a slightly domed crystal include the Junkers Bauhaus, Tissot Visodate, Junghans Max Bill in Quartz or Automatic, and the Hamilton Intra-Matic. The ever reliable Seiko Presage Cocktail Time is also in the running as a winner and is constantly listed as being great value for the price. In the luxury market, alternatives can include the Oris Artelier or the Longines Conquest Heritage. Check out the alternatives if sizing or aesthetic issues prevent you from biting the bullet on a Bambino.
The Versions of the Orient Bambino
Note: we're only showing two examples of each version here. If you want to see all dial combinations, see the section at the very bottom of this post.
The first generation of the Bambino comes in three styles (called 'versions' by Orient) while the second generation comes in those same three plus an extra two versions. There is also a Bambino "Small Seconds," which takes the second hand and moves it to a chronograph like sub-dial and adds some Roman numerals. And recently, Orient has released an "open heart" version, which takes design styles from both generations of watches and combines it with an open heart dial where you can see the internal mechanism.
Each version has distinct dial styles, but all keep the same clean, simple look of a dress watch. Below are examples of the different versions (we've only put two of each example below, but you can find all the models with links at the bottom of this post).
Version 1 has thicker, pointed hour markings and triangular hands.
Version 2 has Roman Numerals for the hour markings and train-track chapter rings around the outside.  Although the dial is more crowded it has a very sophisticated look.
Version 3 is a very clean, Bauhaus-ish styled version. No numbers, very clean lines and simple, squared-off hands. The 12, 3, 6 and 9 hour markers are thicker, while the rest are thin. If you like this style, you can also check out our gallery of other Bauhaus watches here.
Version 4 of the Bambino is close to Version 1 but with more refined hour markings and hands. The second hand is tipped in red and the dials come in sunburst colors. The watch case is bigger than the previous three versions.
Version 5 (new in 2018) changes up the dial design quite a bit, introducing a new font and a different look, almost a different vibe. The hands are curved and the dial features a slight sunburst effect. The size is 41.5 mm across and it goes back to the 21 mm lug size.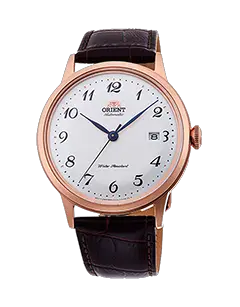 Bambino – Small Seconds takes the second hand and moves it to a small sub-register at the 6 o'clock position. It also adds some Roman numerals but keeps the hour indices style of version 4 and removes the water resistant text. It is the same size watch case as versions 1-3 & 5. It also has an awesome see-through case back, a first for a Bambino.
Bambino Open Heart (below) takes the design cues from the Version 4, removes the date window and adds an open heart view into the watch mechanism. It uses a different movement, but unlike the Version 4 watches it uses a 21 mm lug size.
All versions feature similar watch cases and a domed crystal that gives the Bambino a classic look. They also come in different dial colors with the Version 4 sunbursts and the Version 2 in cream being very popular.
Internal Difference Between Orient Bambino Generations
Generation 1 Bambinos use a 48743 movement while Generation 2 Bambinos & the Small Seconds use a F6722 movement. The Bambino Open Heart uses a F6T22 movement and the Version 5 uses the F6724 movement. Beginner watch enthusiasts won't really notice much difference and all are comparable in reliability and quality. The Gen 2 versions (and Open Heart) will allow you to wind your watch and stop your second hand while adjusting the time, but other than that, the differences shouldn't be enough to sway you either way if this is your first dress watch. We recommend buying a color and style you will be pleased with rather than concentrating on what's inside.
Orient Bambino Watch Size
At 40.5 mm for both generations version 1 through 3 & 5, Small Seconds & Open Heart versions, the Orient Bambino is slightly larger than traditional men's dress watches, which usually come in at around 35-38mm. But while it may be bigger than other watches in the dress watch category, it is still not a big watch. The Version 4 comes in at 42mm, which is large for a dress watch but still not oversized compared to watches on the market today.
One compliment about the Bambino is that it is neither too big nor too small, making it fit a lot of wrists. This characteristic makes it a great starter watch for beginners who haven't nailed down the exact size of watch they want on their wrist. You are almost guaranteed that no matter your wrist size, this will look good on you.
Orient Bambino Strap Sizing & Lug Width
The Gen 1 & Gen 2 Versions 1 through 3 & 5, the Bambino Small Seconds & Open Heart versions come in at 21 mm between the lugs (the place where the strap connects to the watch). This is a rather uncommon size and makes buying replacement straps for the Bambino kind of a pain if you want them to fit exactly. You will be able to find 21mm replacement straps, you just won't have a lot of options. The V4 has a 22mm size, which is much more common and finding great straps shouldn't be a problem.
If you find a strap you like but it doesn't come in a 21mm width, you have two options. You can buy a 20mm strap and make do with a very tiny gap or shove a 22-mm strap on there. Most people will pick a 22mm strap because a lot of strap materials will compress over time. You can also shave off 1 mm with a knife if your strap material is a solid color and the cut won't show.
What strap to buy for the Orient Bambino
The Bambino will look great on a wide variety of leather straps, from basic leathers to exotic leathers like crocodile and ostrich. With a simple, classic look, the watch can also successfully be dressed down with fabric or textured straps, but avoid NATOs, rubber or silicone. Check out our Orient Bambino Strap Inspiration album on Pinterest for strap ideas.
Unless you go wildly overboard in your strap buying, this watch will give you a lot of options to look good on your wrist. Most people end up with a classic brown or black leather strap (depending on your dial color), but the versatility the Bambino offers is what makes it is such a great beginner watch. Alligator is also a very popular option. Once you're comfortable with the strap you have, you can branch out and become a bit more daring and be confident the Bambino will still look good.
For the versions with a strap size of 21 mm, strap buying can be annoying because most strap websites sell in even-numbered increments. So you will either need to fit a 22 mm strap on there or have a small gap. However, there are some 21 mm options, a favorite brand of ours is B&R bands, which we've featured on our blog before. They have a number of options and colors in vintage leather and embossed gator at a very good price. If you're looking for something higher end, you probably won't find many options, so we recommend a custom strap to fit the 21mm lug width exactly. You can find a list of reputable custom watch strapmakers on our blog (with some great pictures).
On the low end, you can find very inexpensive 21 mm straps on Amazon, but be warned these might not be the most comfortable or long lasting. But if you just need a strap, check out the iStrap or the Wocci on Amazon, or the straps made by Green Olive on the very cheap end. They do in a pinch and will work well if you wear the watch rarely. Heavy users will probably want to upgrade to something a lot nicer.
As mentioned before, you can also go one size up or down on the lug width and it will generally work (we recommend one size up). Great options for 22 mm or 20 mm straps include Hirsch (a very popular option), the Clockwork Synergy Gentleman's collection, and ColaReb Roma. Make sure to pick the right size before buying. If you're looking for something very high end, we recommend going straight to a custom strap maker such as JonesinTokyo. Or you can find more in our list of custom strap makers.
Manufacturer Rating
Orient is rated very good when it comes to watch manufacturing. It is a subsidiary of Seiko, another Japanese watch manufacturer. Orient sells higher-priced watches than the Bambino, so they have an incentive to maintain good quality as those buyers expect it.
Where to Buy the Orient Bambino
The Orient website is the official place to buy in the U.S. and the first place to check for sales. Outside of sale times, most people will find better deals and more frequent sales through third-parties. Amazon (our affiliate) sells some of the new models directly, while third-party sellers on Amazon will sell used and harder to find versions. Reliable third parties on Amazon include the WatchLocker and Long Island Watch.
If you're looking for other safe places to buy a watch online, check out our Guide to Safely Purchasing a Watch Online. Overall, many of the Gen 1 Bambinos are hard to find, so if you're looking for one of those, check that guide for some safe places to buy a used watch.
Nomenclature – What the different versions of the Orient Bambino are called
One drawback to purchasing the Bambino is the downright confusing naming convention. Not only are there Generation 1 & 2 watches, there are also Versions 1-5, and the recently released Bambino Small Seconds & Open Heart. For the most part, the word "version" refers to the different styles of the dial, while the term "generation" refers to the internal mechanisms.
The Versions 1 through 3 watches of both generations look the same, only the internals are different. Versions 4 and 5 do not have a 1st Generation counterpart. You can tell a Generation 1 watch from a Generation 2 watch by the writing on the dial. Generation 1 watches say "Water Resist" while Gen 2 watches spell out "Water Resistance." The Bambino Small Seconds removes the large water resistant text and just has the Orient logo on the front.
Here is great video by Long Island Watch that walks you through the basics of Bambino terminology.
We've tracked down all the different models and colors of the Orient Bambino below to help you shop. Quite a few styles are now only available as used watches or from dealerships because they are no longer sold by Orient. If what's inside the watch is important to you, remember that Generation 1 watches have "Water resist" on the dial, while the newer Generation 2 watches say "Water Resistant" (and the Bambino small seconds doesn't say it at all, but it is very distinctive so you shouldn't have any problems recognizing it).  Some websites won't bother with the naming convention and will just call them Bambino 1, Bambino 2, Bambino 3, and Bambino 4.
You can find pictures of all the watches below. Not all of the links will work as some Bambinos that Orient no longer makes go out of stock. If it is not available via a search on Jomashop, try searching via our Amazon link, which links to Orient Bambinos on sale through Amazon. Pictures are in the order of the newest watches first.
All Known Versions of the Orient Bambino
Orient Bambino Version 5
Orient Bambino Open Heart
Orient Bambino Small Seconds 
Version 4 Orient Bambino (Gen 2)
Version 3 Orient Bambino (Gen 2)
Generation 2 Version 2 Orient Bambino
Generation 2 Version 1 Orient Bambino
Generation 1 Version 3 Orient Bambino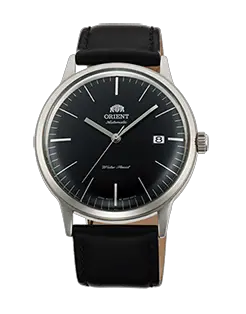 Generation 1 Version 1 (the Original) Orient Bambino
If you'd like to support this blog, please consider shopping for the Orient Bambino through our Amazon Portal.
Also check out our other guides:
We are an Amazon Affiliate.