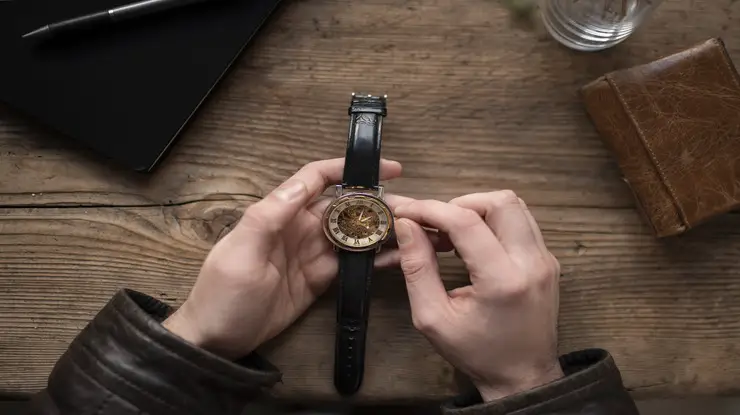 Have you ever wondered how to keep your watch straps looking as good as new? Owning a watch is more than just a way to tell time. It's an expression of style and personality. And one key element that often goes unnoticed is the watch strap. A well-maintained strap not only enhances the overall look of your watch but also ensures its longevity.
Well, you're in the right place! In this article, I'll guide you through the essentials of watch strap maintenance. We'll cover the cleaning and care tips, maintenance techniques of watch straps, and their importance. So grab your favorite timepiece, and let's dive into the world of watch strap maintenance!
Cleaning and Care Tips
Everyone wants to choose the perfect watch strap, but only a few know how to maintain them. Normally there are five types of watch traps. Depending on each one's design and built, I've given the exclusive cleaning guide.
Leather Strap Cleaning
Leather straps require regular cleaning to maintain their flexibility and prevent dirt buildup. Here's a step-by-step guide to clean your leather strap:
Remove the strap from your watch carefully.
Drown a soft cloth in lukewarm water and gently wipe the surface of the strap to remove any dirt or residue.
If the strap is heavily soiled, use a small amount of mild soap diluted in water. Ensure the soap doesn't contain harsh chemicals that can damage the leather.
However, don't soak the strap in water because excessive moisture can cause the leather to warp or lose its shape.
After cleaning, pat the strap dry with a clean cloth and allow it to air dry completely. Once dry, apply a small amount of leather conditioner to keep the leather supple and prevent cracking.
Metal Bracelet Cleaning
Metal bracelets heavily attract dirt, sweat, and oils from your skin. Regular cleaning will help maintain their luster and keep them looking their best. Here's how to clean a metal bracelet:
Safely detach the bracelet from your watch.
Take a bowl of warm water mixed with a mild detergent or dish soap. Drown the bracelet in soapy water and leave it for a few minutes.
Use a soft brush or toothbrush to gently scrub the joints, focusing on the areas between them. This will remove dirt and grime.
Wash the bracelet thoroughly with clean water. Dry it with a soft cloth or let it air dry.
Additionally, you can use a metal polish to restore the shine of your metal bracelet.
Rubber Strap Cleaning
Rubber straps are popular for their durability and resistance to water. However, they can develop an unpleasant odor over time. Here's how you can clean a rubber strap:
Detach the rubber strap from your watch.
Take warm water mixed with a small amount of mild soap or dish detergent. Put the rubber strap in the soapy water.
Gently wash it with a soft brush.
Now wash the strap properly with clean water.
Pat the strap dry with a clean cloth and let it air dry completely before reattaching it to your watch. This is how you can prevent moisture buildup and reduce the risk of odor.
NATO Strap Cleaning
NATO straps are known for their durability and ease of maintenance. Here's how you can clean a NATO strap:
Detach the NATO bands from your watch.
Add a small amount of mild detergent in a pot with lukewarm water. Rub the strap gently in the soapy water.
Then wash the straps with clean water.
Finally, put the strap in a clean cloth and let it air dry completely. However, avoid direct sunlight or heat sources to prevent fading or damage to the strap.
Fabric Strap Cleaning
Fabric straps come in various materials, so checking your strap's health is essential. Here are general cleaning tips for fabric straps:
First of all, look for any specific cleaning instructions provided by the manufacturer. Follow those instructions to ensure proper care for your fabric strap.
Spot-clean the affected area using a mild detergent or stain remover for minor stains or dirt. You can use a soft cloth or brush to scrub the stain gently.
If your fabric strap is machine washable, place it in a mesh laundry bag and wash it gently with mild detergent. Be sure to remove any metal or leather components before washing.
After cleaning, let the fabric strap air dry completely. Avoid using a dryer or exposing it to excessive heat, as it can cause shrinkage or damage to the strap.
By following these cleaning and care tips, you can keep your watch straps in excellent condition and extend their lifespan. But maintenance goes beyond just cleaning. Let's explore additional techniques to ensure your straps stay pristine.
Watch Strap Maintenance Techniques
It's obvious that you'd like to pick the right band for your watch. But what if you don't know how to maintain them? That's why I've given you some topics to maintain your watch straps for a long time.
1. Avoiding Moisture and Water
While some watch straps are water-resistant, avoiding exposure to excessive moisture and water whenever possible is essential. Additionally, water can damage certain materials changing their shape over time. Hence, you should remove your watch when engaging in water-related activities like swimming or showering. However, if your strap gets wet, dry it thoroughly before wearing it again.
2. Protect from Excessive Heat and Sunlight
Heat and sunlight can also have a bad effect on watch straps. Direct exposure to sunlight can cause fading or discoloration, particularly for fabric and leather straps. Moreover, excessive heat can warp or weaken certain materials. To protect your straps, avoid leaving them in hot environments, such as inside a car on a sunny day. Hence, keep your watch in a cool & dry place while you're not wearing it.
3. Handle with Care
Watch straps, especially leather and fabric ones, can be delicate. To avoid unnecessary wear and tear, handle your watch with care. Avoid pulling or tugging forcefully on the strap when putting it on or taking it off. This can weaken the attachment points or cause the strap to stretch or tear. Instead, gently guide the strap through the buckle or clasp.
4. Properly Store Your Watch
Proper storage is crucial for maintaining the condition of your watch straps. Make sure to keep your watch in a dedicated watch box or pouch when you're not wearing it. This will protect your watch bands from dust, moisture, and accidental damage. Also, keep your watch away from sharp objects or other jewelry that could potentially scratch the strap. Additionally, consider storing your straps separately to avoid tangling or rubbing against each other.
Conclusion
Congratulations on completing this crash course in watch strap maintenance! Remember, good maintenance not only adds to the overall appeal of your timepiece but also ensures long-lasting. By following the cleaning and care tips in this article, you can keep your watch straps pristine. So go ahead, show off your well-maintained watch straps, and enjoy the compliments that come your way!
FAQs
How often should I clean my watch strap?
– Cleaning your watch straps depends on various factors how often you wear the watch and the environment it's exposed to. As a general guideline, you should clean the watch strap every few months or whenever you notice visible dirt or grime.
Can I use soap and water to clean a leather strap?
– While mild soap and water can be used to clean a leather strap, it's important to gently touch and avoid excessive moisture. Be sure to dry the strap thoroughly after cleaning and apply a leather conditioner to keep it in optimal condition.
How do I remove odor from a rubber strap?
– To remove odor from a rubber strap, clean it thoroughly using warm soapy water. Ensure the strap is completely dry before wearing it again. You can also use specialized strap deodorizers or place the strap in a well-ventilated area to eliminate odor.
Can I resize my metal bracelet at home?
– While resizing a metal bracelet at home is possible, visiting a professional jeweler for precise adjustments is recommended. They have the necessary tools and expertise to ensure the bracelet is resized correctly without causing any damage.