Name: Seiko 5 SNK line
Price Range: $65-95 (depending on color & sales)
Style: Military/Casual
Type: Automatic
Watch Size: 37 mm
Lug width: (size of the strap where it meets the watch): 18 mm
Best Place to Buy: Almost anywhere, Amazon will usually have the best price. Seiko avoids selling these on their website, (they have similar upscale models instead).
Note: We are an Amazon, Seiko & Jomashop affiliate.
Pros:
Excellent starter watch for kids and a great casual watch for adults
Great watch strap fashion options & dial colors
Fantastic bang for your buck, commonly recommended on watch forums
Often found below $70 on sale, depending on the color.
Cons:
Missing a few features watch enthusiasts love
The stock strap is kind of "meh" on most models
Seiko 5 SNK Review
The Seiko 5 line of SNK watches are highly recommended as an inexpensive way to get into automatics. The watches are great for kids as a first watch and an excellent casual watch for adults. It meets all the check boxes for a good looking watch from a great brand at a great price.
Kids (and parents) will love the sub-$100 price, the good design and the ability to mix and match watch straps. It can be a first watch for a kid or a nice watch for a teenager that can go with a lot of outfits. While not anywhere close to as sturdy as a Casio G-Shock, it should stand up to some light abuse. The see-through case back that lets you see the internals of the watch as it tracks time is fun and an added bonus.
Adults will love the casual feel, and it makes a great fashion choice in the dressed-down category and an excellent beater watch (something you don't mind getting scratched doing activities but still looks good). The watch is missing some of the features that watch enthusiasts are looking for, like hacking and hand winding, but it's sub-$100 price makes up for that. It can often be found on sale.
Water resistance is minimal but useful. It will make it through the shower and being caught in the rain, but it should not be used for swimming or spend any major time under water.
Naming conventions & versions of the SNK
First, lets get the naming conventions out of the way. The SNK line is part of the Seiko 5 line of watches, and the Seiko 5 collection of watches is huge. I mean gigantic. It includes a lot of great watches and searching for "Seiko 5" will get you nowhere if you're looking for this specific watch line. Buyers should search for "Seiko SNK" or the exact model number instead.
The SNK model numbers are based on dial colors with the current range being the SNK 803 (beige), 805 (green), 807 (blue), 809 (black), and M95 (red). The guts of all models are the same, based on the Seiko 7S26 automatic movement. The power reserve charges by using the movement of your wrist.
All models have a see-through case back, allowing you to see the watch movement while it is off your wrist and a day-date window at the 3-o'clock position. The crown is at a more unusual 4-o'clock position, but a lot of reviewers like this as it doesn't bite into the wrist as much.  The models are shown below:
Where to buy
We would usually recommend going straight to the manufacturer, but in this case you won't be able to find it on the Seiko website for some reason (it didn't come up in our search) and it probably won't be on sale if it was there (see our Guide to Buying Watches Safely Online for why this is the case). Amazon will most commonly have the best deal as the watch is cheap and fairly popular. International users might find the links don't work, so they can just run this search.
However, the different colors go on sale at different times and sales are common, so always check multiple vendors. If its not on sale at one place it might be on sale at the other. Popular places to check are department stores (Walmart carries it, Costco usually doesn't) and most watch shops. We link to our affiliates Amazon & Jomashop below:
Watch size
All models are 37 mm wide (not including the crown) and 11 mm thick. Small for a modern watch, they will fit most men and women and overall it's a great unisex size. People with very large wrists will find it too small and might want to look at the SNK's larger cousin, the Seiko 5 SNZG series or the Citizen Eco-Drive.
Other alternatives in the same style include the cheaper Timex Expedition Scout (quartz), the Orient Flight or Orient Aviator Flight, the Hamilton Khaki Field or Khaki King, and on the very high end, the unfairly gorgeous IWC Pilot Pilot Mark XVIII "Petit Prince" or the even more beautiful midnight blue version.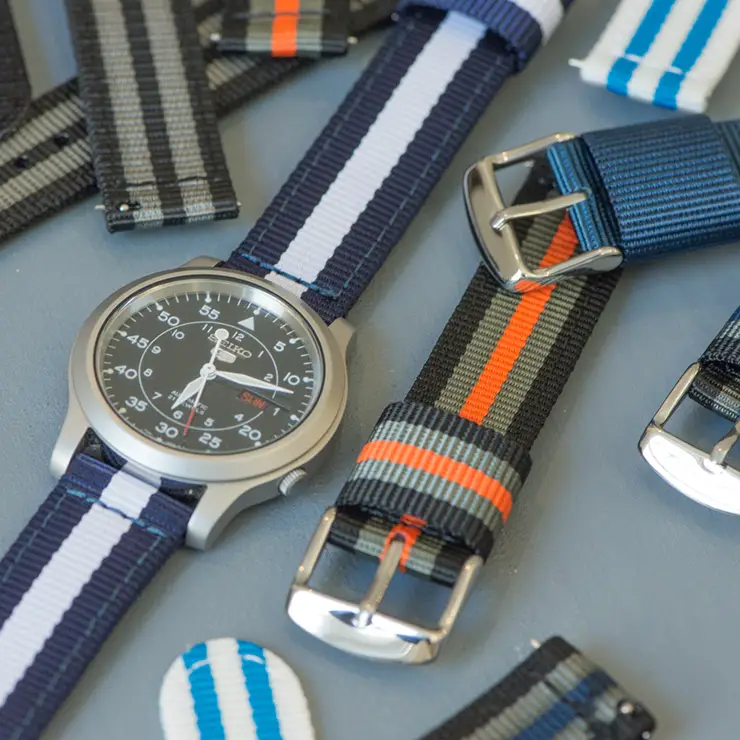 Seiko SNK Strap Sizing & Lug Width
Most reviewers don't think much of the stock straps and find them basic and a bit rough. But all the Seiko 5 SNK models come in the popular 18 mm lug width, which means finding new straps won't be a problem.
Buyers can easily upgrade the strap, and this is where this watch really shines. It's made to show off straps and the different dials colors allow a lot of fashion opportunities. We recommend going with quick-release watch bands, as this watch lends itself to swapping out the strap to match your mood or outfit. If not, pick up a spring bar tool to quickly change the strap without marking up the lugs.
Straps to buy
Buyers should look for NATO, canvas, perlon, or plain leather straps that go with the dial color you've chosen. Stay away from crocodile, stingray, and other exotic or expensive leathers as the watch is too casual.
For leather straps, keep it simple, such as this Hadley Roma MS854 (goes great with the beige dial) or this leather NATO from Crown & Buckle. Smooth or distressed leather will work well, but stay away from high-end chromoexcel or Horween unless it has been roughened up a bit to bring it back down to casual (see this example). Suede is a good option for a casual strap if you're looking to match boots or belts.
Canvas & NATO straps are a perfect fit for this watch. Try out different color combinations to fit your style and the dial color. Similar watches to the SNK include the aforementioned Seiko 5 SNZG & the Hamilton Khaki Field Quartz, which can help when looking for strap ideas on Instagram or Pinterest. If you need more inspiration, check out the gallery below or visit the Seiko SNK strap inspiration Pinterest board.
If you're buying this watch as a first watch for a child or teenager, don't be afraid to buy the multi-packs of cheap NATO straps for them to try out. See this guide for options.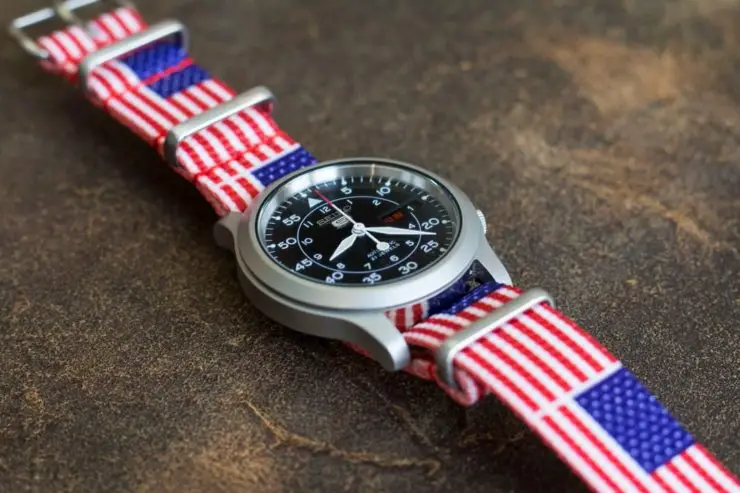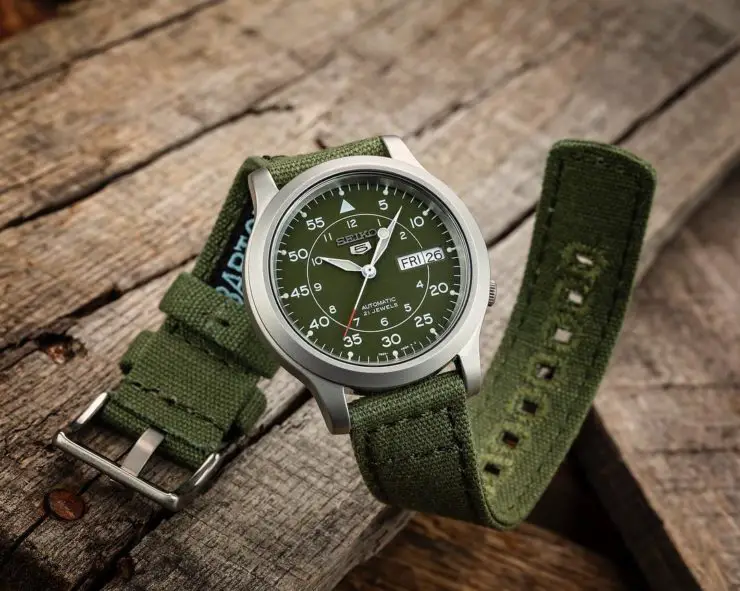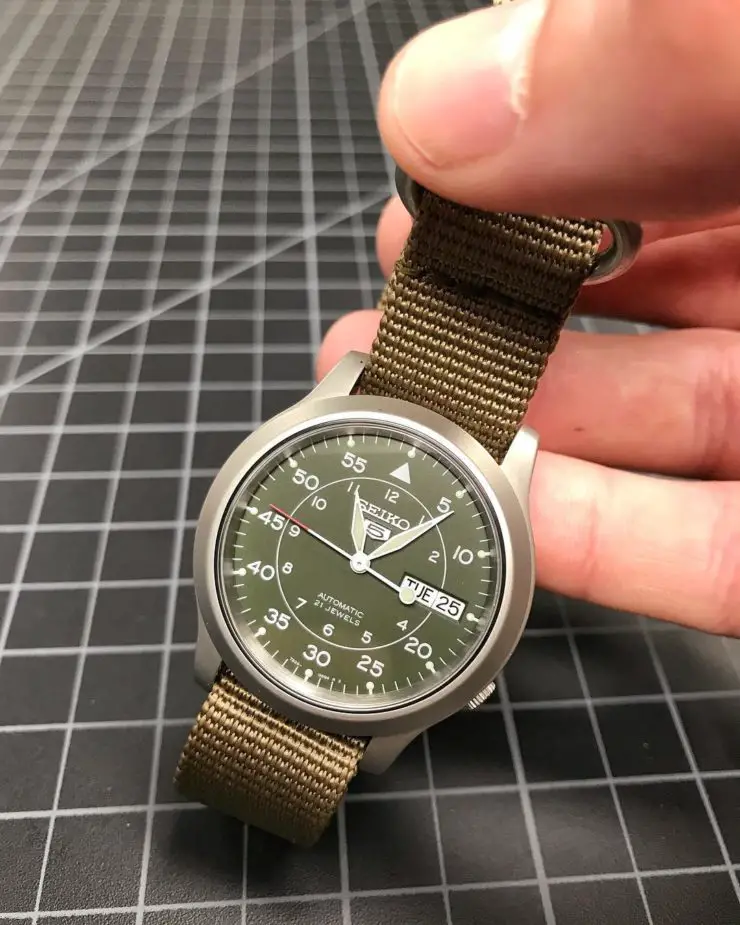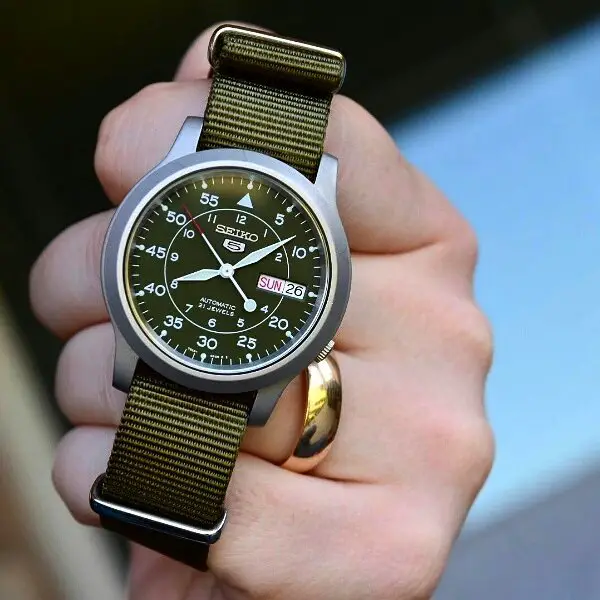 Also check out our other guides:
We are an Amazon & Jomashop Affiliate. We are also an affiliate for some smaller watch retailers. More info here.