Watch strap making isn't just limited to major brands and big shops; across the world there are small strapmakers making a living designing unique and custom straps. Our small brand spotlight series interviews these strapmakers to see what makes them tick.
Today the spotlight is on Freddie Matara and his incredible cuff-style leather watch straps custom made to fit a watch face.
Name: Freddie Matara
Website: freddiematara.com (Etsy Shop)
Location:  New York City Metro
What: I specialize in wrist wear. Specifically, custom sizing and design of wrist cuffs, cuff watches and watch straps. I also make belts, Guitar straps and other small accessories.
How did you get into watch strap making?
As a kid, I always enjoyed covering my wrists as I have very slight wrists. It made me feel powerful and less self conscious. It started with terry cloth wristbands and evolved into leather. I got tired of buying girl's cuffs or jury-rigging wristbands that were too large, and began making my own with a few tools and a piece of latigo leather in 2001.
My first piece was a cuff watch for a diver watch face I found at a club in Manhattan where I was tending bar. I was truly in awe at the first piece I created (it was soo bad, really!)  I made some for my friends and then their friends started asking for custom pieces. At the time, I was singing in a rock band and supporting it with my bar job. 9/11 happened and the bar biz dried up… My band wasn't "making money" so my friends suggested I do something with this newfound leather talent… I did!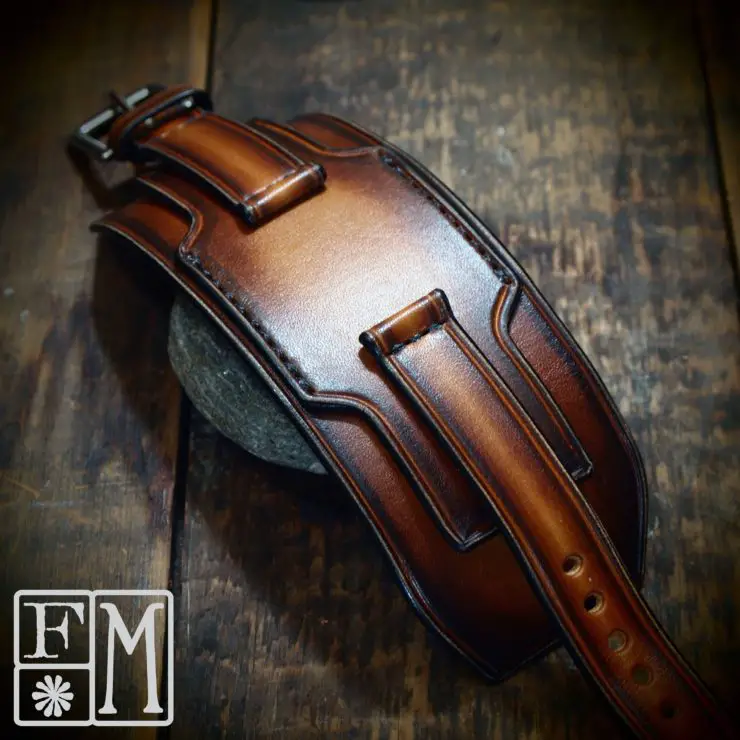 What materials do you use in your bands?
I use European undyed vegetable tanned leather for the majority of my collection. I also use goat, kangaroo and recently started experimenting with Alligator leather.
What is your favorite material to work with?
As stated above, I really enjoy working with Euro veg-tan. It's so malleable and much lighter in color than traditional North American veg-tan. I enjoy the process of dyeing, forming and finishing leather myself.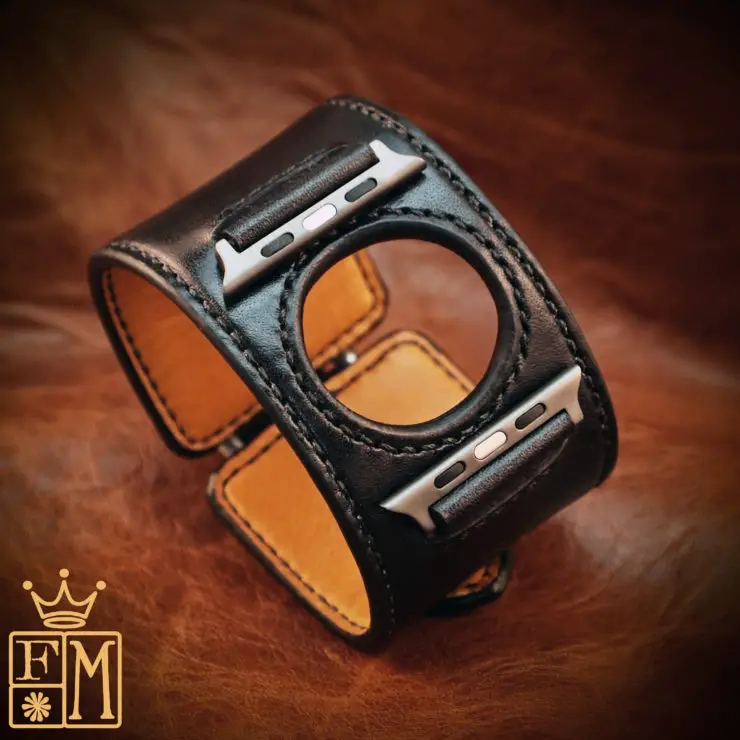 What style of bands is your favorite to make or wear?
I lean towards a wider cuff style in my personal collection. I really like a 2.25″ width on my own wrists. It's a substantial look and I typically offset it with a skinny bracelet on the opposite wrist.
Do you have a favorite watch?
I rarely wear a watch these days but If I had the funds I'd like an Omega Bullhead!
What do you like to do outside of strap making?
Singing is really my first love but music is a tricky business…There's nothing like writing a great song, melody and lyric!  Alas…if I can't get in their ears, I'll get on their wrists!