Watch strap making isn't just limited to major brands and big shops; across the world there are small strapmakers making a living designing unique and custom straps. Our small brand spotlight series interviews these strapmakers to see what makes them tick.
Our second interview is with Andrea Tugas, a bespoke strapmaker in Chile who owns Martu Leather. For all our interviews, check out our Custom Watch Strap Maker Page.
Name: Martu Leather, run by Andrea Tugas
Website: http://www.martuleather.com | Etsy Shop
Location: Chile
What: Custom leather and canvas watch straps and bands, including exotic leathers.
How did you get into watch strap making?
When I was a little girl I remember my dad taking care of his watch collection. That's how I learned to love watches, especially big watches. But I always had problems with the straps. When I tried to wear them they were too big for my wrist, so I started making my own straps, after that I start making straps for my friends and then in the middle of a pursuit for a different way of life I left my office job and opened up my web shop.
What materials do you use in your bands?
Mainly calf, but I also use exotic leathers such as alligator, ostrich, python and stingray.
What is your favorite material to work with?
Calf. It looks good, lasts long and gets old super nice.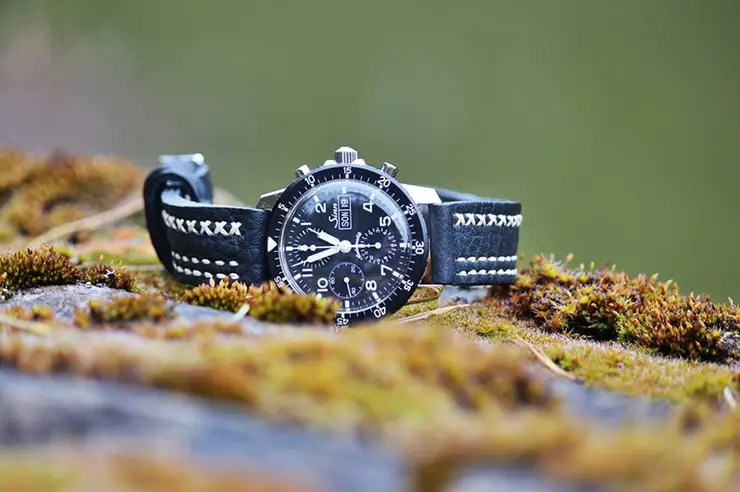 What is the most difficult watch strap you've had to make?
A customer sent me a small patch from his dad's WWII pilot jacket to make a strap. Besides the difficulty of making the strap, the most important thing was to make it right without damaging the patch. I knew this was an irreplaceable piece of personal heritage so I had to be super careful, the final product was great.
Do you have a favorite watch? What watch would you buy if you had the money?
No, I have a lot of favorite watches, it will be selfish to pick one. Most watches reflect a time and state in your life, as today if I have the money I will love to have the pam690.
Featured Picture: Tudor Black Bay Watch on a custom Martu Leather Strap
Also check out our other guides:
We are an Amazon Affiliate.