Watch strap making isn't just limited to major brands and big shops; across the world there are small strapmakers making a living designing unique and custom straps. Our small brand spotlight series interviews these strapmakers to see what makes them tick.
Today the spotlight is on Rafal Karczmarczyk from Maverick Custom Handmade Straps in Poland. You can find all his straps on his website here:  https://web.facebook.com/rafalMaverick
Here is our interview: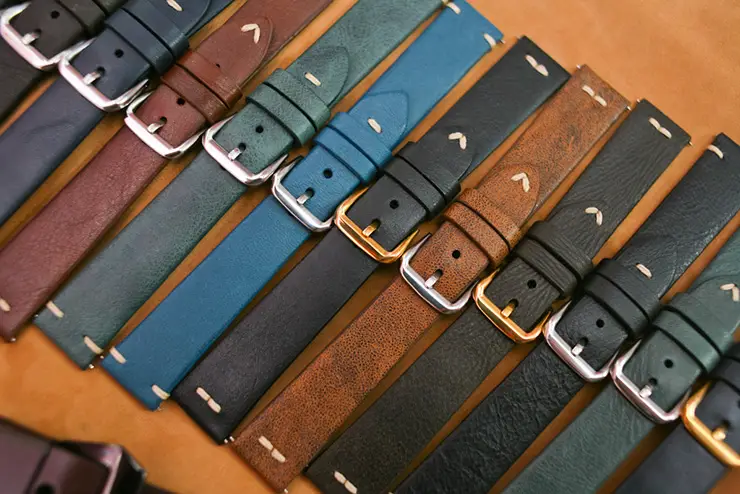 How did you get into watch strap making?
I come from a watchmakers family. My father, grandfather and his father-in-law were watchmakers. I collect watches, just like my father and brother at present. Like all watch collectors I love wearing them.
Sometimes it was quite hard to find the right strap. Those from shops were often of poor quality, if you wanted to order a decent custom, bespoke watch strap you had to wait in a long queue (well, now I understand why…).
So I decided to make some straps on my own. It was about three years ago when I first bought tools, dyes and adhesives. My first straps were classic, simple black and brown, made from calf leather. I still have my first straps as a kind of souvenir.
What materials do you use in your bands?
I always use natural leather. The top layer is usually something exotic, which is joined with a calf leather core. There is also a thin leather lining in the back of the strap. I always seal the edges with a proper edge paint (handpainted), polish them, heat treat, paint again etc. I once came across a saying: 'Your straps are as good as their edges are,' and I kept it in mind.
Recently I started working with baseball gloves and balls, NFL balls and canvas. Some other materials like waxed threads are also important, since they increase durability and make the straps look as my customers want it.
What is your favorite material to work with?
I am always happy to work with shark and crocodile leather. I also love ostrich leg in various colors and kudu antelope. Easiness of working with shark leather, various patterns of crocodile scales, an impressive look of ostrich leg, beautiful natural scars on kudu – this is what makes my work pleasant. And a bit of good music in the background!
What style band is your favorite to make or wear?
I like classic two piece straps, whether it's rally, filled, tropic or simple classic. To make and wear. I don't really like making NATO or pocket watch straps. There is one exception, Bulova Moonwatch on its black velcro. It's a very nice strap and I love wearing the watch on it.
Do you have a favorite watch?
Yes, I'm Seiko crazy! I have about ten Seikos in my collection. Two of my other favorites are a Bulova Moonwatch, which I wear every day, and a Breitling Navitimer 0816, a beautiful vintage chrono, which I wear on some occasions.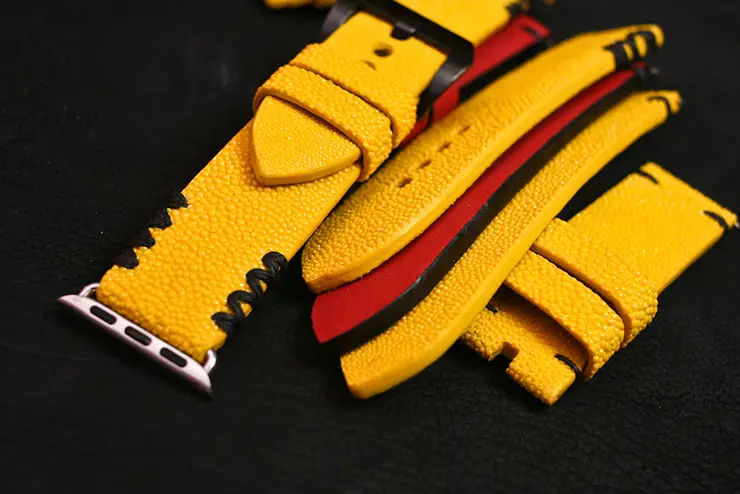 What do you like to do outside of watch strap making?
I try watchmaking in my free time. I've got tools and some machines. I do simple repairs, adjusting, cleaning, polishing, but it's rather a hobby, I'm not making any money on it. I have a great respect to professional watchmakers, I know how difficult their job is and really admire them. Besides that, I try to improve my photography skills.
Name: Rafal Karczmarczyk from Maverick Custom Handmade
Website: https://web.facebook.com/rafalMaverick
Location: Poland