Watch strap making isn't just limited to major brands and big shops; across the world there are small strapmakers making a living designing unique and custom straps. Our small brand spotlight series interviews these strapmakers to see what makes them tick.
Today the spotlight is on Jun Talusan and his Philippines-based shop, Two One Four Straps.
Name: Jun Talusan (Two One Four Straps)
Website: www.facebook.com/twoonefourstraps; Instagram (Contact him via Facebook or Instagram to buy)
Location: Philippines
What: Custom handmade, handstitched watch straps
How did you get into watchstrap making?
A few years back I got into collecting watches. At one point I acquired several pieces and decided to change straps instead of buying a new one, but since I have skinny wrists most straps sold at shops didn't fit. That's the time I decided to make my own.
I'm a very lucky guy to have a wife that supports my hobby, and she's the one who actually pushed me to pursue strap making. At first it was so frustrating because my straps don't look anything close to the ones I see online. It is when I realized that strap making is not something you can learn easily, it takes time and effort and a detailed eye to make your strap presentable.
What materials do you use in your bands?
Mostly Full grain cowhides, but I also use denim, canvas and exotic hides
What is your favorite material to work with?
I love working with Crazy Horse and vintage reclaimed leathers. They have so much character in them.
What style of bands is your favorite to make or wear?
My sense of style changed, before I like making and wearing big, bulky and wide straps. But now I'm into tapered and not too thick straps. It's more comfortable to wear and looks elegant.
Do you have a favorite watch?
I'm partial to Japanese diver's watches with iconic and classic look because they are very versatile. You can make them look rugged, casual or dressy.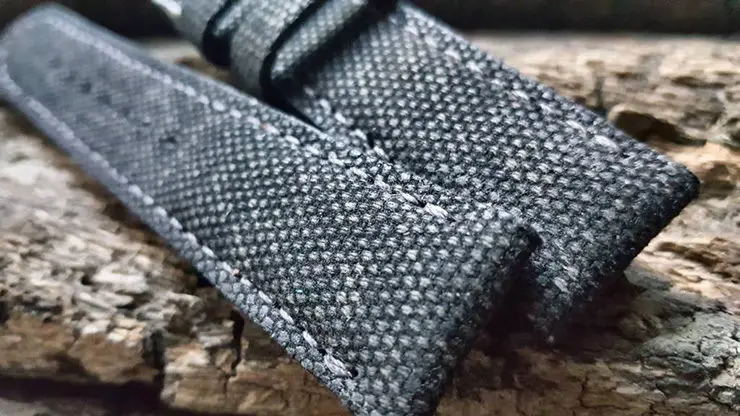 What do you like to do outside of strap making?
I love watching movies and if given the time, some woodworking.
Looking for a new watch to go with your custom made strap? Support our blog by shopping through our affiliate partner, Jomashop.