Hello everyone, and welcome to the 2018 edition of the Basic Bands Watch Strap & Accessories Gift Guide! We're here to help you find that perfect someone (or yourself) the perfect gift this holiday season.
We've divided the guide up into sections, so skip ahead to the one that interests you most. First we have perfect combos, the strap and watch match-ups we've seen this year that just work great together. If you're looking for a watch & strap package, this section is for you. Whether you're buying a first watch for a teenager or making a big investment, we've got some excellent options. Related Guide: Safely Buying a Watch Online.
After that we're showcasing our favorite straps of the year from our favorite custom strapmakers. There are a lot of talented leather workers out there ready to make you a watch strap, and we've featured some of the best of them. If you're looking to spice up a watch or get a new strap made to replace a broken band, this is the place to go. Don't forget to check out our guides on watch strap style, tips for picking out a new strap, tools for changing a strap, and how to fix a broken watch strap loop.
Lastly, we're covering watch strap accessories for those of you who already own all the watches and watch straps you need. But where to put them all? We've got some great ideas on watch pouches, watch winders and more. Related: Recommended Watch Storage, Winders & Cases on Amazon.
Great Watch and Watch Strap Combos that Caught our Eye
2018 was a great year for watch straps. Brightly colored silicone seemed to go with almost everything, especially diver watches. Canvas straps were a big hit on our Pinterest boards all year long, and high quality leather seemed a match made in heaven for luxury watches. Here are some of our favorites in various price ranges.
Watch & Watch Strap Combos: $100-$300
Clockwork Synergy Autumn Brown Suede Leather Band on a Seiko SNK 809 watch. You can usually buy both on Amazon for under $140, but sales on the watch often bring that down to closer to $110. All the Seiko SNK models make great starter watches for kids and teenagers and beater watches for adults.
Blue leather quick release from Barton Bands on the inexpensive Timex Weekender, combo usually runs under $75, but sales can bring that down to $50-ish. Quick-release straps are some of our favorite things.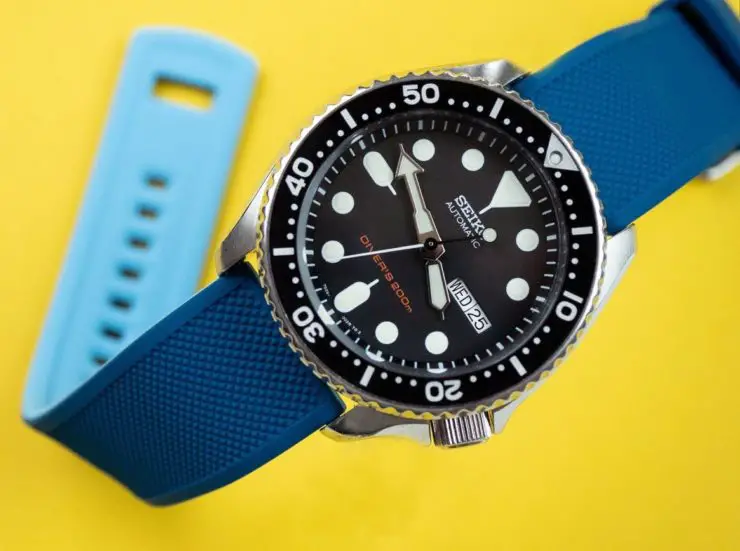 Barton Bands Blue Flatwater Silicone Quick Release Band on a Seiko SKX 007 Diver. You can find Barton Bands on their website or their Amazon store. At around $20, the watch strap is a great band for the price, and the combo usually runs about $250.00. Just an amazing watch with a great history.
Watch & Watch Strap Combos Over $400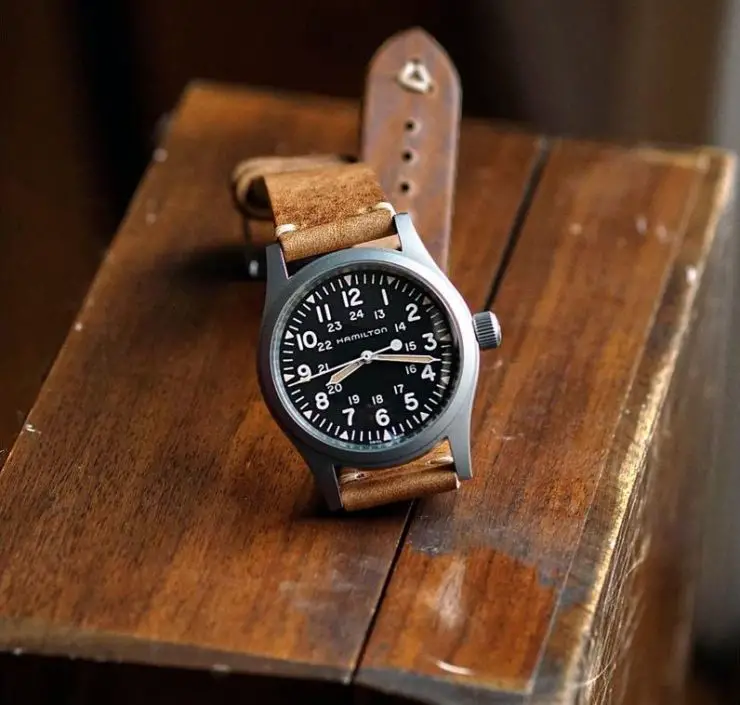 B&R Bands Oak Classic Vintage Watch Band on a Hamilton Khaki Field Mechanical Watch. Combo runs just over $400 with sales, without sales the band will be about $80 and the watch about $475. The Hamilton watch is basically the go-to watch when it comes to field/military watches.
Custom Gray Perforated Apple Watch band by Etsy seller O2Leather. The watch is obviously an Apple Watch. If one of those is on your purchase list this year, keep in mind that there are a lot of strap options out there besides the ones offered by Apple. Custom straps are generally pretty easy to fit to all models of Apple Watches. Check out our list of custom watch strap makers and our Apple Watch strap collection on our Basic Bands Amazon recommendation list.
Luxury Watch & Watch Strap Combos: over $1500
Brown Hirsch SPEED Alligator Watch Strap on a Tag Heuer Carrera watch. Both the strap and the photograph are courtesy of the awesome guys over at Watch Obsession. Blue dials are a match made in heaven with dark brown and tan leather watch straps. Strap costs around $260, watch around $2,000.
Crown & Buckle Tan Kangaroo Leather watch strap on Nomos Orion Watch
Crown & Buckle tan kangaroo leather strap on a Nomos Orion watch. Definitely a great combo for the minimalist in your life. Strap runs about $70, the watch about $3,100.
Going custom – getting a new custom watch strap made just for you
We featured a lot of artists this year on the blog, you can check them out on our custom watch strap maker list. Dan's canvas strap was one of our most visited pages all year, consistently getting hits from Pinterest (Dan is the owner of Red Rock Straps). High end leather was insanely popular, especially for luxury watches, such as the Horween leather straps from Jones in Tokyo.  Exotic leathers also made an appearance, with some great work being done in string ray, crocodile and lizard leather.
If you're buying a watch for a person who knows and loves watches but still want to keep the price reasonable, custom is the way to go. Even if you don't want to give away your gift giving plans by asking about a watch size, make or model, a custom strap maker can probably find out the size from a quick snapshot and get you something that special person in your life will love.
Dan's canvas strap on a luxury Omega Speedmaster watch. You can find Red Rock Straps on Etsy.
Neptune Straps Brown Leather Watch Strap on Seiko SKX 007 Diver. You can find our interview with Pavel here.
One of our favorite leather crafters, Jones in Tokyo's work always looks exquisite. Pictured here is his French calf tan/brown watch strap. If your special someone is the owner of a luxury watch, chances it will look amazing on a strap from his shop.
Want to go exotic? Dangerous9 straps is the place to drool over crocodile, lizard and other exotic leathers on insanely amazing watches. Shown here is an Omega Planet Ocean on a Grey SuperMatte Teju Lizard Watch Strap.
Watch accessories: or what to get for the person that already has a nice watch
If you're not sure about strap size or don't know what style your gift recipient will like, there are other gift options. You can buy some inexpensive watch tools to make strap changes easier, like a strap change tool or spring bars, or delve into the wide world of watch cases, winders and storage. With prices as high as a few thousand dollars for some winders, there is a lot of room for every gift buyer.
Since a lot of watch cases and pouches are made of leather, you can also have one custom made.
A canvas watch roll from B&R Bands. About $120.
Choice Cuts Industries valet tray and single slot watch roll with a Timex Expedition Scout and custom strap, all in English Tan leather. Valet tray – $40. Strap $60, Timex – $40.
Crown & Buckle Warren Watch Roll – $145.
Oak & Honey Custom Leather Single Watch PouchOak & Honey Custom Leather Single Watch Pouch – $126 CAD.
---
If none of these gifts strike your fancy, check out our list of recommended watch strap brands here or our Amazon store for more recommended brands of watch straps and gifts.
Also, check out our other guides:
We are an Amazon, Etsy & Jomashop affiliate, and a few other jewelry stores listed on our about page. We do not get paid to promote any brands, nor are we an affiliate for any watch strap brands directly, only through the stores named above. Thanks for reading our guide and we hope you have a great 2019!
–